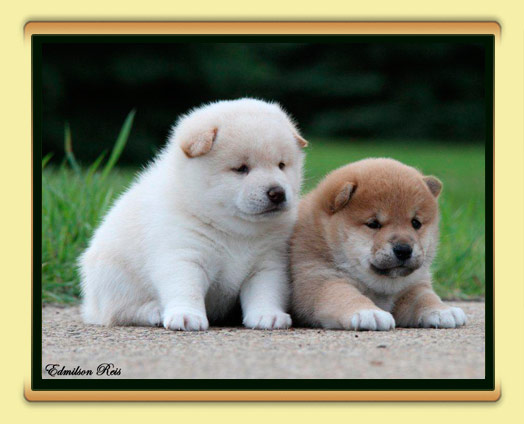 Before you add a Shiba to your family, Think:

• Consider your lifestyle – this breed needs outdoor activity. Shiba's are NOT off leash dogs!!!! There are few Shibas who have gone through extensive obedience training and have had success.

• Shibas need fences. Is your yard secure? Some Shibas have been known to scale a 6 foot fence, maybe think about using a covered dog run.

• Shibas are very intelligent, and bore easily. Boredom leads to barking, digging and chewing. Do you have time to spend with a dog?

• Shibas are very clean, but are not maintenance free. Regular brushing, nails and teeth are regular, necessary chores. Shiba's will lose all their soft undercoat about 2 times per year, can you cope with this?

• The Shiba is tough minded and independent, as well as sensitive and loving. He thrives on attention, but does not cling. Can you live with a dog that acts like a cat?

• Socialization MUST be done while the pup is young – 6 months is generally too late! *** Two levels of obedience training are a mandatory part of the Timberfox Shiba Inu contract.****

"Tips" Courtesy of Shiba Inu Canada

Items for Your New Addition:

1. Kennel for sleeping and travelling - Size 200 with metal door (Vari-Kennel) Base Dimensions: 16"w x 23"l x 19"h Full Dimensions: 20"w x 27"l x 19"h

2. Dog Bed - Medium splash bed

3. Food – We feed a raw diet here at Timberfox as our dogs main meals, we also feed Taste of the Wild kibble

5. Nail Clippers & QuickStop - scissor style only, not guillotine

6. Premium Shampoo with Conditioner

7. Toothbrush (finger type) and paste (a soft cloth will work for puppies)

8. Grooming Brushes, soft bristles, long pin brush, slicker, and a grooming rake

9. Food and Water Dishes - stainless steel in holder is best, ceramic is good too, NOT plastic.

10. Treats - beef sticks, dog biscuits, marrow bones, natural blend roll.

11. Toys - plush, kong, rope, interactive play toy

12. Bitter Apple Spray - to stop furniture chewing

13. Pooper Scooper and Poop bags for walks

14. Exercise Pen with a lid - for house training (X-Pen)

Puppy Books You May Want to Purchase

The Complete Shiba Inu - Maureen Atkinson

The Total Shiba - Gretchen Haskett & Susan Houser

Shibas - Richard Tomita

Japanese Shiba - Andrew De Prisco

Shiba Inus - A Complete Pet Owners Manual - Laura Payton

Puppies for Dummies - Sarah Hodgson

How to Raise a Puppy you Can Live With - Rutherford & Neil

**Some of the above books are not easy to come by, I have purchased mine online at Amazon.ca*
About the Shiba Inu - History
The Shiba Inu Standard
Are you ready for a Shiba Inu?